GAG-L.A.P.

This nifty little program will make your life so much easier! Long level runs are not hard to adjust but the work is tedious at best. Our level adjustment program, the GAG - Level Adjustment Program or GAG-L.A.P. for short, will allow you to enter your level run data, check it then balance and adjust your level run. Once the run has been adjusted, it can be printed out.

Features

GAG-L.A.P. contains the following features:

| | |
| --- | --- |
| Works in NGVD29 or NAVD88 | English Units or Metric Units |
| Converts runs from Meters to Feet and vice versa | Single Wire Level Runs |
| Three Wire Level Runs | Adjust by Number of Turns |
| Adjust by Average Backsight/Foresight Distance | Set it for 1st Order Runs |
| Set it for 2nd Order Runs | Set it for 3rd Order Runs |
| Maximum Sight Distance Warning | Backsight Distance/Foresight Distance Difference Warnings |
| Center Wire vs. Computed Mean Maximum Deviation Warning | Printable Bench Run Tabulation Report |
| Printable Adjusted Bench Mark Tabulation Report | |
System Requirements

Should run on all of the basic flavors of Windows, from 95 to XP. Also works on Windows 7 and Windows 8. Sorry though, no iPad version!

Printer (Optional)

Screen Shots

Below are links to screen shots from GAG-L.A.P. Please click on an image to see the screen in detail.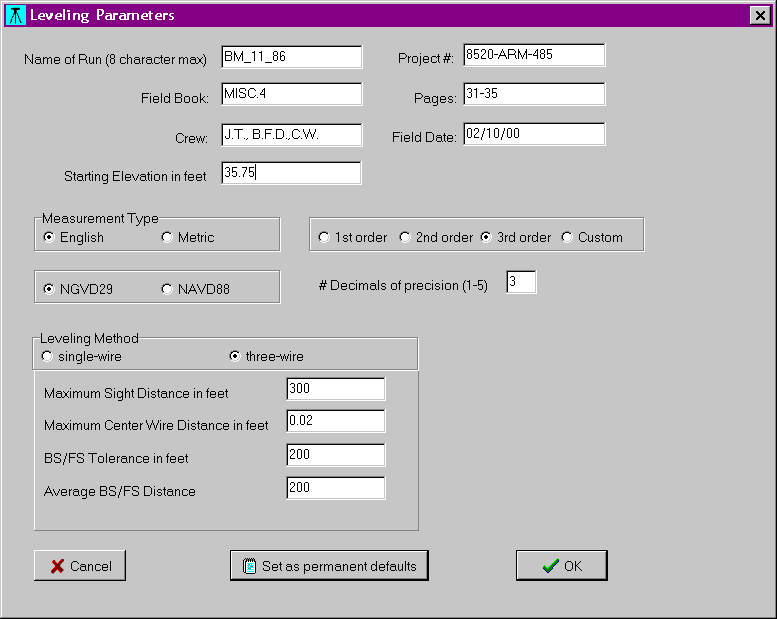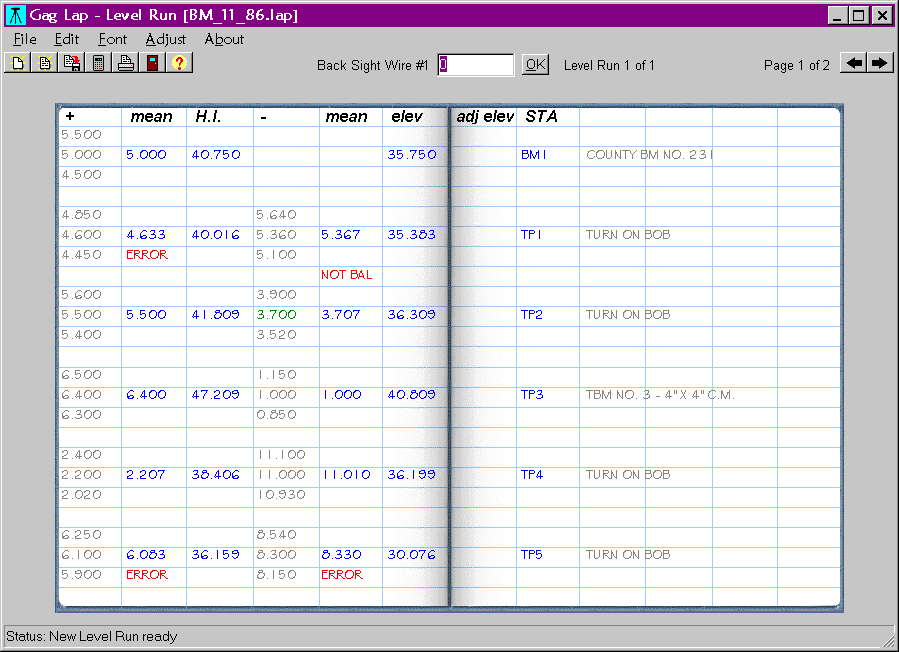 Free Demonstration Copy
You can obtain a demonstration copy of GAG-L.A.P. by clicking on the following link:
The demo copy of GAG-L.A.P. is fully-functional and it will run for thirty (30) days allowing to take a good look at our product. If you don't like it, just un-install it from your computer. If you find it useful, just follow the link below to purchase your copy through PayPal.
Purchasing Information
This handy program is inexpensive and no office should be without at least one copy. It is only $79.95! To order your very own copy of this great application, please click on the link below. If you have the need for three or more copies, please contact us for our volume discounts! Payments can be made through PayPal or by company check.
Click on the button below to make your order!